Here's a surprising truth that is tough to accept. Nevertheless it's true.
 Running too fast can slow you down.
That's right – A fast growing business can come to a screeching halt in the blink of an eye.
Why you might ask.
Simply – If you don't focus on fundamentals – they will eventually catch up to you. Even though your business may seem to be running on high rpm's. The long term successful companies are those that take the time to concentrate on core business fundamentals.
It's actually pretty intuitive. If you are trying to run a 5K or 10K race and you begin at a pace that is beyond your capabilities, you will eventually run out of 'gas' and may even have to stop.  I see this all the time.
I've been running  since I was in my teens and run at least one competitive 10K race each year. (Not that my running times are competitive anymore).  I see people who have not trained, who begin the race by following younger, more fit runners and within a mile or less stop and begin to walk. If they had started much slower and let their body and muscles warm up they would have finished much quicker. If they had worked on fundamentals in preparation for the race, they would have increased their lung capacity, 
So why is this important for anyone in business? What is the correlation? What is my point? Quite simply – Be careful not to grow your business too quickly.
Business growth can be dangerous to your business health.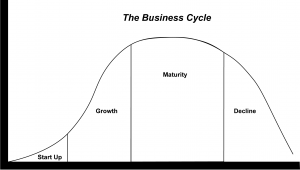 You see, unless your business is a fad and the market opportunity is time constrained and limited, you should be thinking long-term. (Like a 10K race) and not short term (Like a 100 meter dash).
If we look at a classic business cycle graph we note that after a start up period of very little growth most businesses will enter into a transition of higher growth, sometimes exponential growth.
This is great with a number of important caveats
A)  You have built sufficient business muscle (systems, assets, processes) to handle the increased business activity.
B)  You know what your limits might be. Don't outstrip your resources or ability to get more.
C)  Don't let your cash flow kill the momentum.
Now I fully realize that business in today's instantaneous interconnected global economy is different. You don't have the luxury to go 'slow' as before. That is why it is so critical to have built up sufficient business muscle beforehand.
The purpose of a business is after all to maximize your return on assets/investments. To do this you will need a sufficient time horizon. Note that I said "maximize'. Because you can grow really quickly without a real return on your assets, since high growth can be expensive to maintain.