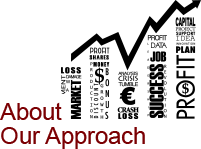 We focus like a lens on the entirety  of your business model and operations by zooming in on specific issues insuring that they are addressed appropriately in the context of your Big Picture.
At Big Picture Advisors we are passionate about helping business owners succeed in reaping the benefits of their hard word and investment in their business. Our emphasis is on creating the business growth, exit plans and strategies that lead to a profitable and successful transition.
As business owners who have built businesses and gone through the exit process ourselves and are  in a unique position to understand the complexity of issues and the dynamics of exit a business successfully. We specialize in working with clients to create business growth roadmaps that leads to increased profitabililty and the opportunity for a strong exit. Working together with our clients, we address the core business issues as they relate to successfully building and extracting your business equity.
As Certified Business Exit Mentors we have relationships with many of the leading experts in the area of exit planning and implementation. This team approach to provides us with the tools to create comprehensive solutions in all facets of the exit process.
With specific expertise in strategic Business growth & Development,  Exit planning and implementation, and a holistic team building approach Big Picture Advisors is committed to the ultimate success of its clients.