Thank you for signing up for the Big Picture Advisors newsletter and podcast. Our entire focus is on business growth that leads to increased efficiencies, profits and long term success.
Through our online business solutions and our two business podcasts – Don't Get Stuck in Your Business and Build Business Muscle – we strive to bring cogent, relevant and insightful content that will help you build a strong business core.
Again, thank you for your support.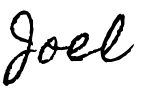 Joel Goobich, Certified Business Advisor & Podcast Host